Enlive Doors has the right fiberglass door that best fits your home. We are the door installation service that offers fiberglass in the style and finish of your choice that matches the existing look of your house exterior. The right door is a luxury accent prompting up your home's aesthetic, while simultaneously increasing its value. Our valued customers benefit from our supply of beautiful fiberglass doors that are equally as durable, secure, and low maintenance. We only offer fiberglass doors made of high-quality materials that will accentuate your exterior home. Each door is available in a wide selection of styles, colours and configurations.
We take fiberglass door replacement projects in the following areas: Toronto, North York, Mississauga, Oakville, Brampton, Vaughan, Richmond Hill, Stoufville, Markham and more. See your city here? Reach out to us to get a quote for your fiberglass door installation project at your own home!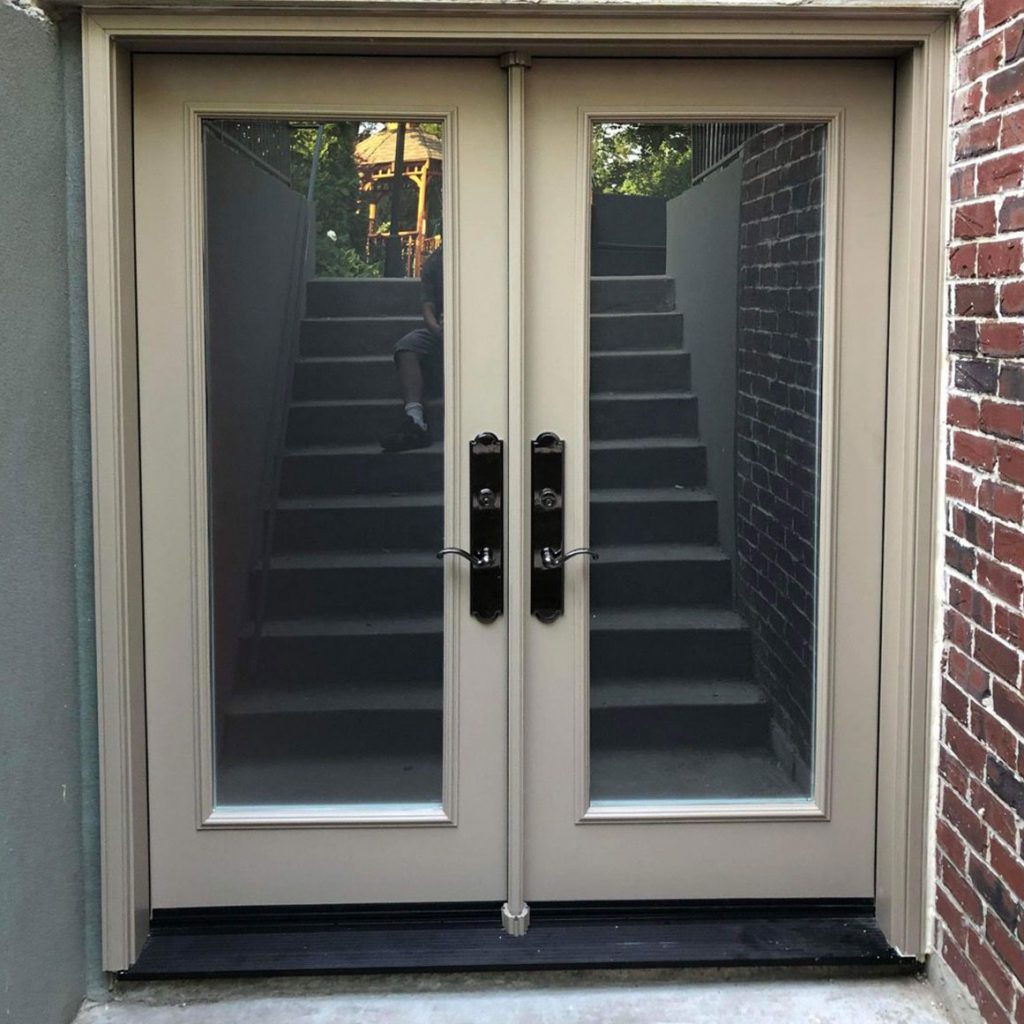 Fiberglass Doors Replacement in Toronto
If you have a low-quality, poorly made fiberglass door, you may face the following issues:
Cracks: During Canada's winter season, the rigid material of fiberglass door contracts, which can lead to cracking and sometimes falling apart. These cracks can make a passage for the cold air to enter the house.
Wear and Tear: Wind, rain and sun make the door look dull and dreary. If the door is left unattended in the finishing process, it can become unsightly and blotchy. The inner core of the glass can also start to rot over time.
Refinishing: The direct effect of sunlight or wind may cause staining to dry up too quickly, which can result in an uneven finish.
Paint on Cracks: ensure water doesn't enter the cracks while refinishing your fiberglass doors. To avoid bubbles in the paint, prepare the surface properly.
In any case, call the experts at Enlive Doors to replace your fiberglass door. Don't risk an emergency when your home's safety is in jeopardy. Call us today!
Fiberglass Doors Benefits
Enlive Doors' fiberglass door systems provide several advantages over traditional wood door systems. Fiberglass doors can be manufactured to look like wood but are significantly more durable and perform better under extreme temperature changes. For those who want customizable options, fiberglass has the ability to be styled to your liking. Homeowners choose fiberglass doors because of the following benefits:
A wide range of colours, stains, and grains
A high level of durability against harsh climates
100% rot and rust-free
Require no maintenance with easy cleaning
Highly energy efficient due to high-density foam core
Greatly secured due to solid construction
Will not dent when hit
Adds a lot to the house value
Fiberglass DoorS IN Toronto & GTA
At Enlive Doors, we pride ourselves on our excellent customer service. We know that when it comes to your home, security is a top priority. That's why we offer fiberglass door installation services to keep your home safe and looking good. Our doors are made of high-quality materials and are designed to be both durable and stylish. We're also a fast and efficient company, so you can be sure that your door will be installed quickly and with minimal disruption to your home. Contact us today to learn more about how you can get your fiberglass door repaired, replaced, or installed, or for any of our other quality services!